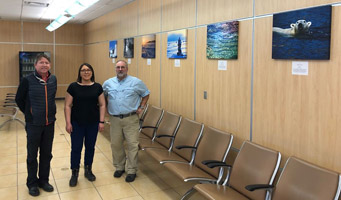 Six Nunatsiavut Photographers Featured in Airport Exhibit
On January 9, 2020, Jill Larkham, Goronwy Price and I hung images from six Nunatsiavut photographers in the departure lounge at the airport in Happy Valley-Goose Bay.
It was a privilege to be involved in this project with Jill Larkham, Inez Shiwak, Holly Andersen, Ryan Winters, Samantha Jacque and Rita-Ann Dicker! Congratulations to you all. Your gallery show looks great!
Thank you GBAC for providing galley space! Greatly appreciated.