Geoff Goodyear is a well known figure in the helicopter industry. He spent the majority of his working career as a helicopter pilot and recently retired as the President and CEO of Universal Helicopters Newfoundland and Labrador LP. During his tenure with Universal he was the recipient of Transport Canada's Aviation Safety Award and the inaugural recipient of Eurocopter Canada's "Innovation in Safety" award.
Throughout his aviation career Geoff has served as the
Chair, Helicopter Association of Canada,
Chair, NavCanada Advisory Committee
Past Director, Institute for Environmental Monitoring and Research
Other Interests and Achievements:
Co-founder of the Labrador Peregrine Falcon Monitoring Program
Board member, Labrador North Chamber of Commerce
Board Member, Battle Harbour Historic Trust
President of the Happy Valley-Goose Bay Rotary Club
Honorary Colonel for 5 Wing, Goose Bay
Honorary Colonel, 5 Wing Goose Bay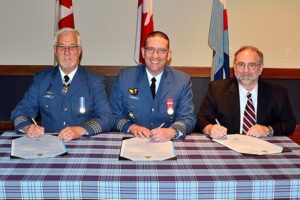 Lieut. Colonel Luc Sabourin, Wing Commander of 5 Wing Goose Bay, Newfoundland and Labrador presided over a ceremony where award winning photographer Geoff Goodyear was appointed to a three-year position as honorary colonel of 5 Wing on May 27, 2016. He replaces Honorary Colonel Sterling Peyton.
The Writer
He is currently a columnist for the internationally published Vertical Magazine. He writes on safety matters concerning the helicopter industry.
Mike Reyno, Publisher/Owner of MHM Publishing Inc. , had this to say about Geoff,
It wasn't long after Geoff started writing the columns that we started to get feedback for our readership...and we got a lot of it.
You may not even read the word 'helicopter' in one of Geoff's columns. But you will smile or laugh out loud reading about one of Geoff's adventures. More importantly is always Geoff's underlying safety message.

In the beginning, we weren't sure how our readers would take Geoff's Newfoundland sense of humor, especially with our American readership. But I knew his message was being well-received when had a call from a law enforcement pilot that ran the San Diego County Sheriff's aviation unit. He was rough around the edges. No sense of humor. But, he called to tell us not only how much he enjoyed the columns, but what his department had learned from them. "Keep it up". They were having an impact in the industry. As one of his officers said, if you can put a smile on that guy's face, you're doing something right!!

That was when Vertical had a readership of about 50,000. Now with a worldwide readership that's nearing 150,000 the comments keep coming from far and wide. We've only ever had one negative comment - nothing about his column, but rather the cigar he is smoking in his profile picture!

Geoff's commitment to the helicopter industry is insurmountable. From the various safety committees he sat on, to HAC and Nav Canada and of course Vertical, Geoff has given back to the industry everything he ever got from it, and more. And, I would like to think that it is because of Geoff's commitment that he has made a difference, and helped make the industry a little safer....

Geoff Goodyear (Photo credit: John Gaudi, CBC Reporter)

Veteran helicopter pilot Geoff Goodyear knows the airstrip at Saglek, on Labrador's rugged north coast, like the back of his hand...
Source: www.cbc.ca
John Gaudi, CBC reporter
Date: August 24, 2015
Guest Speaker / Educator
In addition to speaking at conferences and other public gatherings, Geoff is a Photo Educator delivering Photography Workshops as part of the services provided by Geoff Goodyear Photography.